Did you know that you can eat fried food that has significantly lower calories? This is the case when you choose to air fry your food.
We know how important it is to enjoy good food. However, how much better would it be if your meals were not only delicious, but healthy and with lower calories?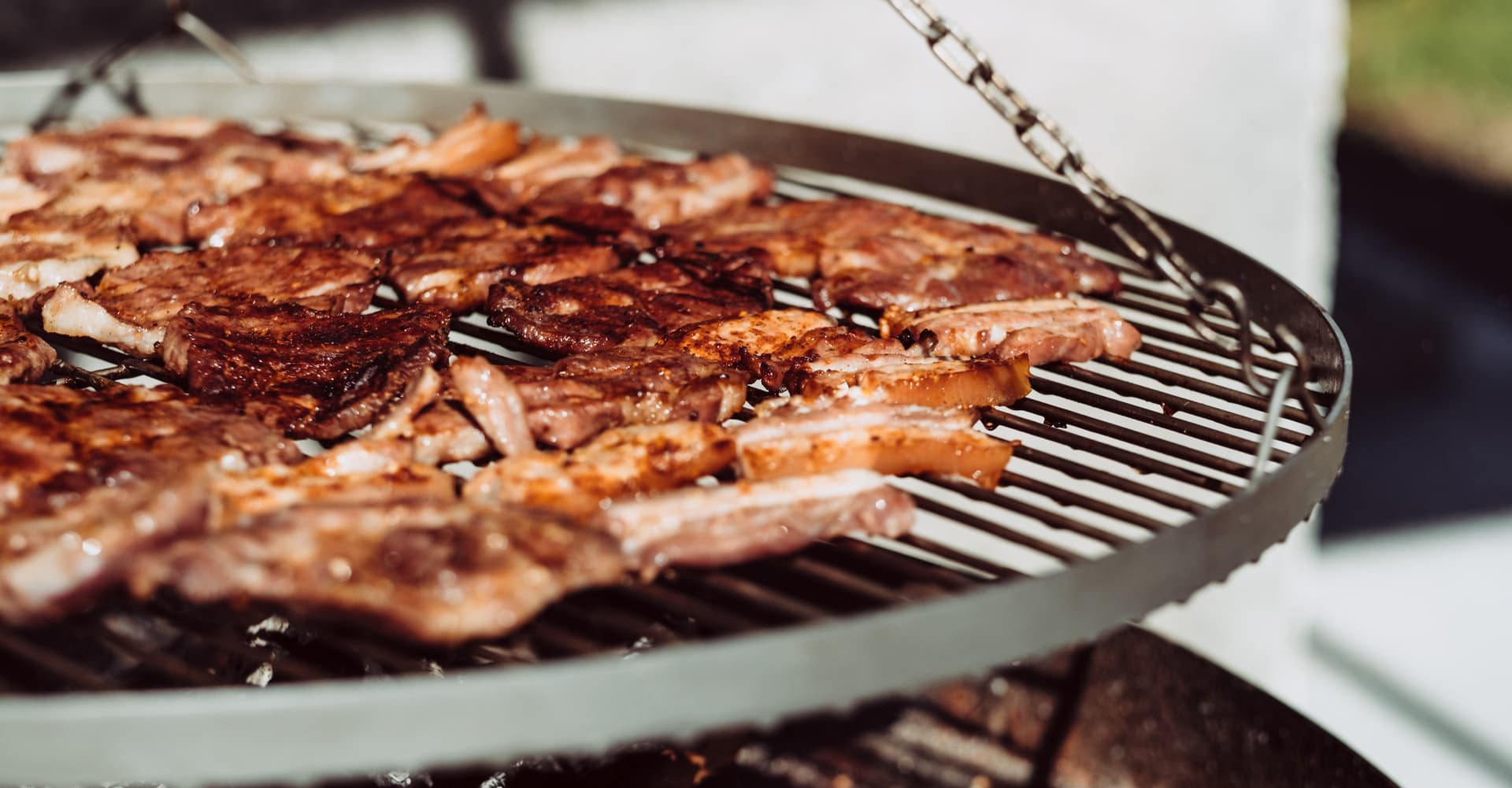 We've done some intense research into this matter and have come up with a suitable compromise. If you want to eat delicious, crunchy fried food, but avoid all of that oil and cholesterol, air frying might be the right fit for you. 
How Does Air frying work?
Air frying is a method of cooking used by chefs to fry food. It is done through the use of an air fryer, which is similar to a small oven. This oven contains a high concentration of hot air used to fry food with little or no oil. The device is usually small enough that it can easily be kept on your counter and out of the way when not in use.
Air frying is healthy because it doesn't add calories to food, unlike what happens to deep fried food. The process of air frying ensures there is barest minimum of oil used, inside and outside the food, while cooking.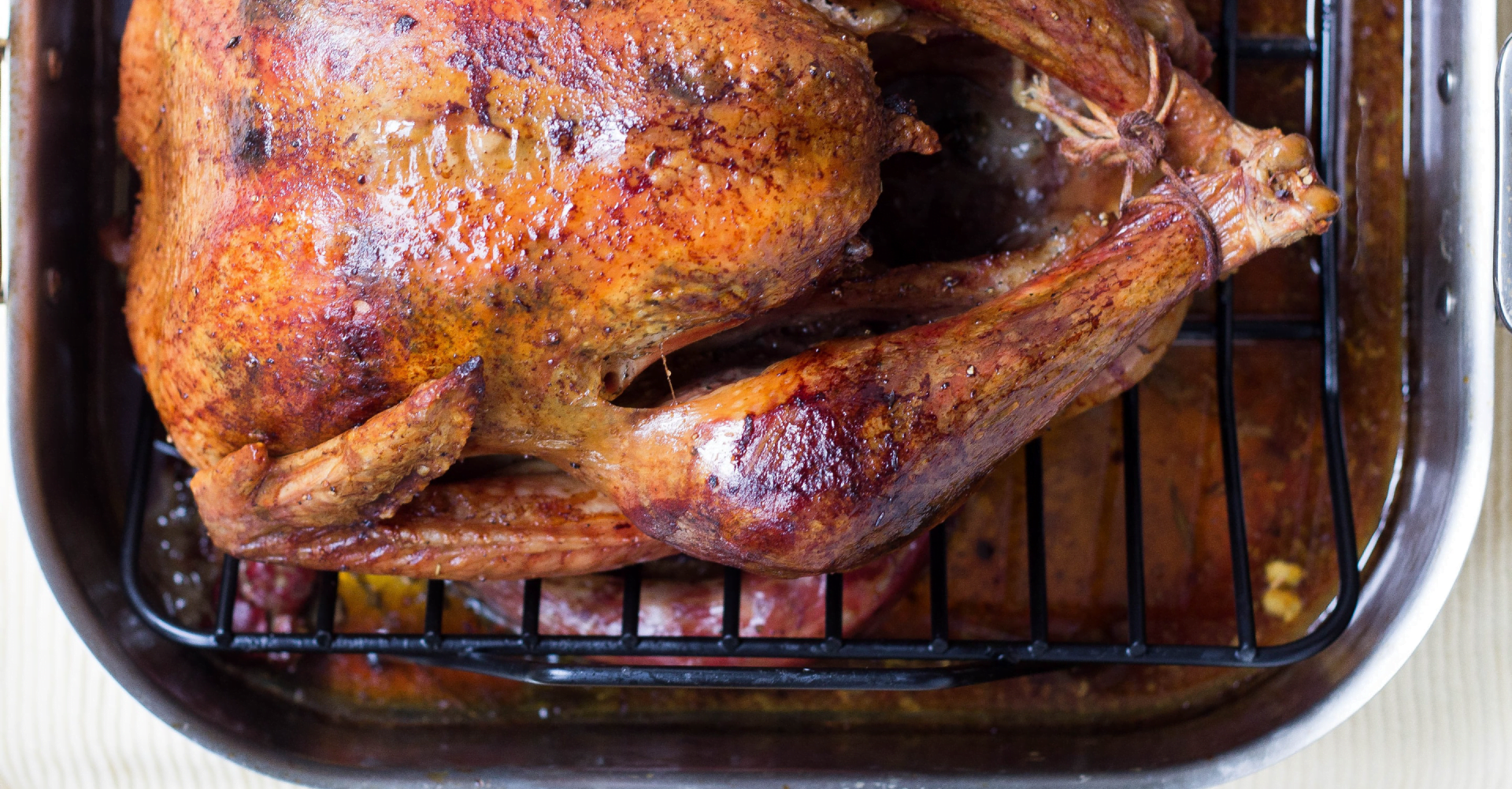 This means that chicken lovers can eat more chicken without the guilt-trip of high calories being present in it. Kids can crunch down on a delicious snack of fried veggies without creating unhealthy habits.
When you turn on an air fryer, hot air is directed at the outside of the food, making the exterior crispy and the interior succulent. These machines create the perfect fried food; not dried out, and not soggy.
It has become a popular way of cooking among chefs, with its effect applauded by many. Food critics have praised the excellent texture of air fried food compared to deep fried options.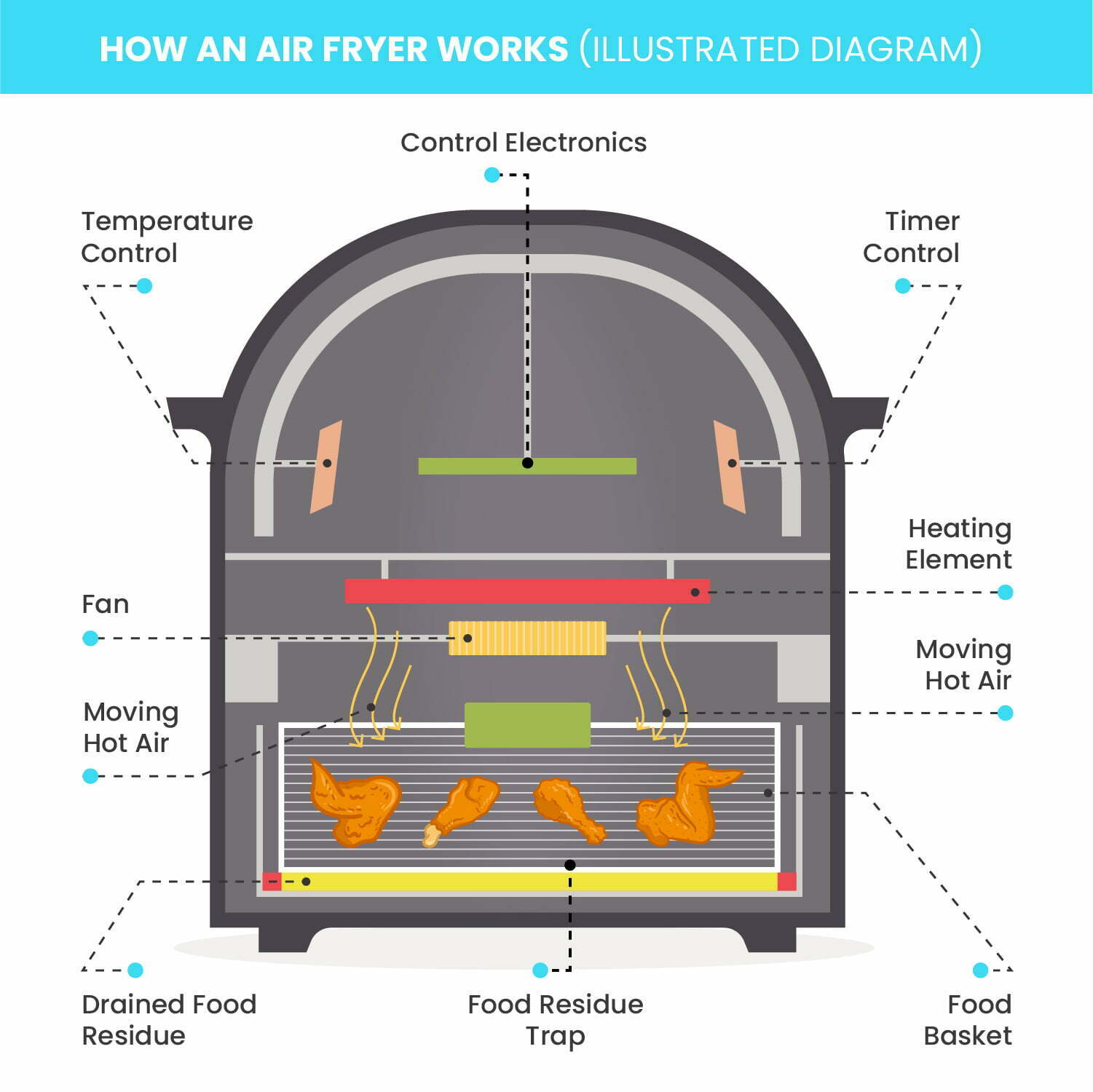 How to use an air fryer
To get the best result, with proper taste, you have to know how to use an air fryer. Luckily this isn't rocket science, but it does involve a few tips and pointers before you can master this machine.
Following instructions safely will ensure no accidents happen, and you end up with a delicious and successful meal!
Read Up
Before using your air fryer, check out the instruction manual quickly so you understand the parts and components and how they all work together. We're not saying you need to be able to rebuild the thing from scratch, but it's always good to know what you're getting into.
Make space
Your air fryer should be on a sturdy surface – like a counter – and away from the edge. The surface should also be heat resistant. Some manufacturers recommend running the air fryer for 10 minutes, empty, before its first use.
Check In
Air fryers might seem hands-off and simplified, but the food will still need to be shaken around a bit to get an even fry. Every few minutes, remove the basket and give it a quick toss. This also allows you to check on the progress.
This Isn't Your Oven
What we mean is, food will likely cook faster in an air fryer, so keep an eye on it. And air fryers usually use lower temperatures than your oven might for, say, toasting up some chicken nuggets. Don't be surprised if your food is finished faster and crispier than you're used to.
Best air fryers on the Market
Looking for the best air fryer fit for you? It's not just about function, but fashion. We've got you covered here. After some investigation and fact-checking, we've listed the top five best air fryers out on the market today.
1.   Cosori Quart 5.8 air fryer
We recommend Cosori air fryers as one of the best on the market. The Cosori air dryer is faster than other devices and doesn't leave the food sticky. More importantly, it's one of the quieter options; because air fryers rely on air flow, you'll inevitably hear fans running when you use it. Cosori cuts down on the noise.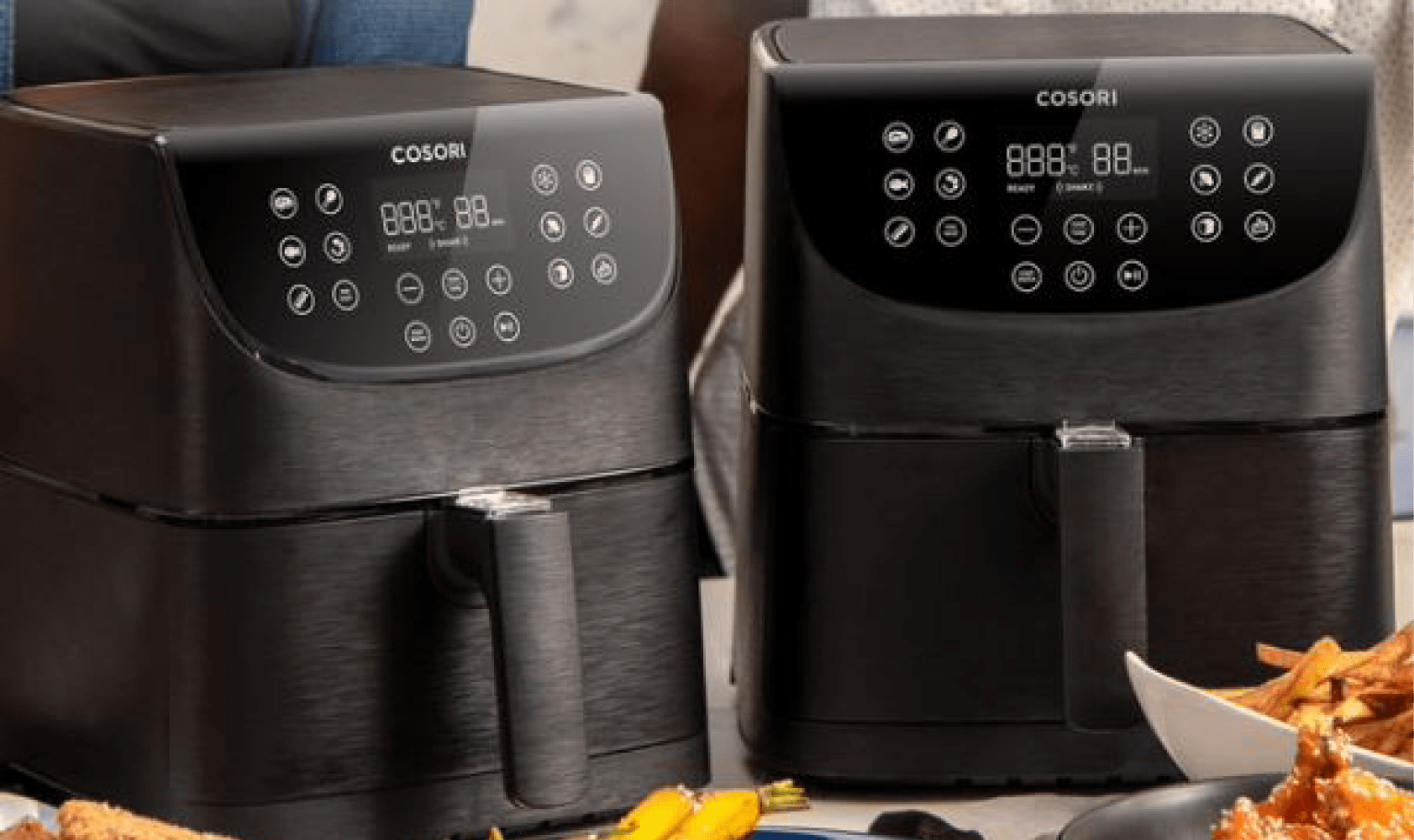 2.   5.5-quart ninja Air fryer Max XL
Ninja Max XL has one of the best manuals, which makes it user-friendly. Anyone without prior knowledge of air fryers can easily navigate this machine. It's intuitive and easy to understand.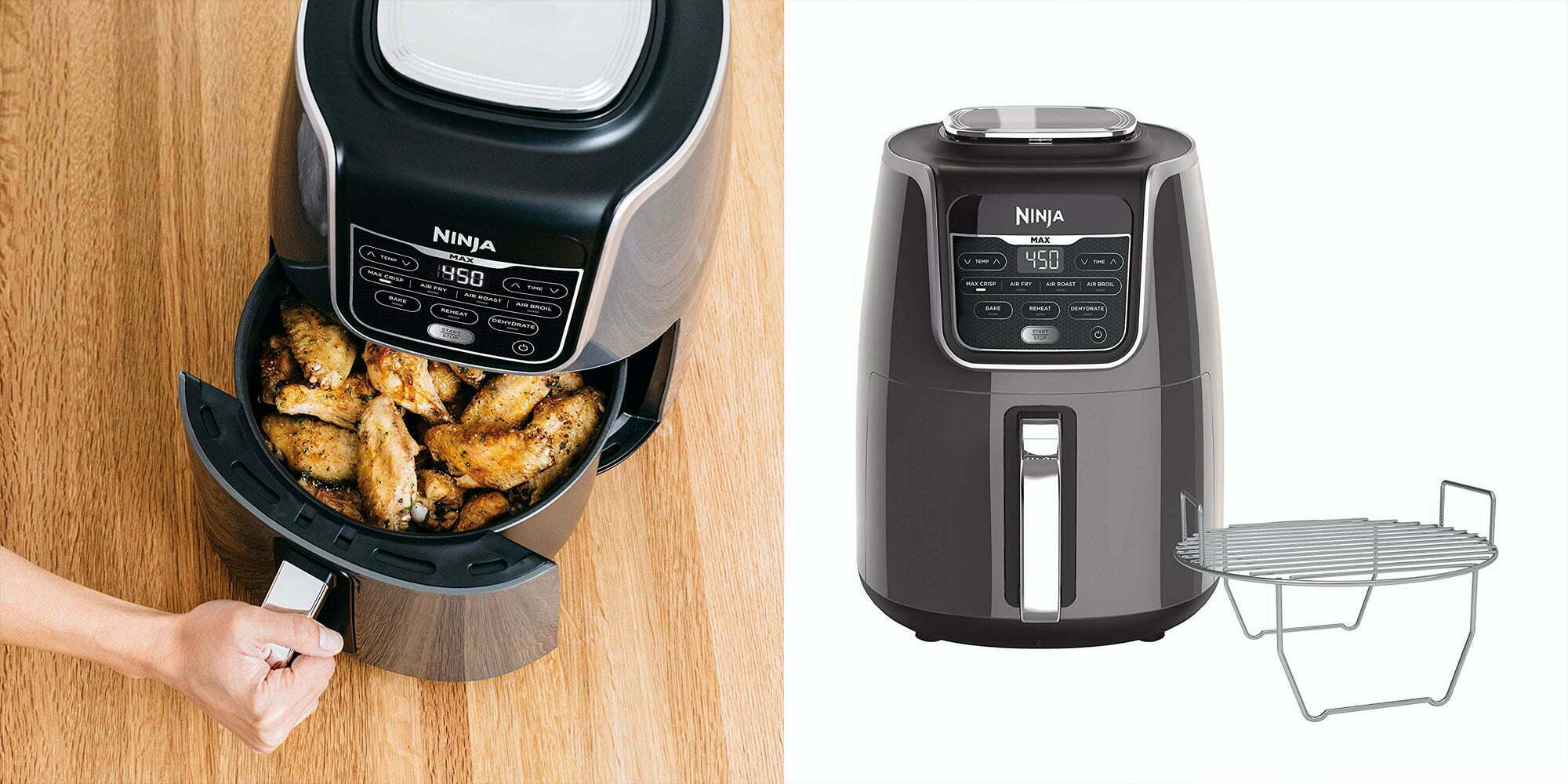 The Ninja has a ceramic, removable tray under its basket, which is fantastic as it helps make the food non-sticky. Moreover, the basket and tray can both be washed in the dishwasher, but if you prefer to hand wash, you are free to do so.
3.   Instant vortex plus
Vortex Plus has one of the highest capacities at 10 quarts. It boasts a six-button setting with different commands including air fry, roast, broil, bake, dehydrate and reheat – all inside one machine.
You can also adjust the level of heat while cooking for the best results. The stainless finish guarantees that it'll blend in with your appliances instead of standing out like a sore thumb.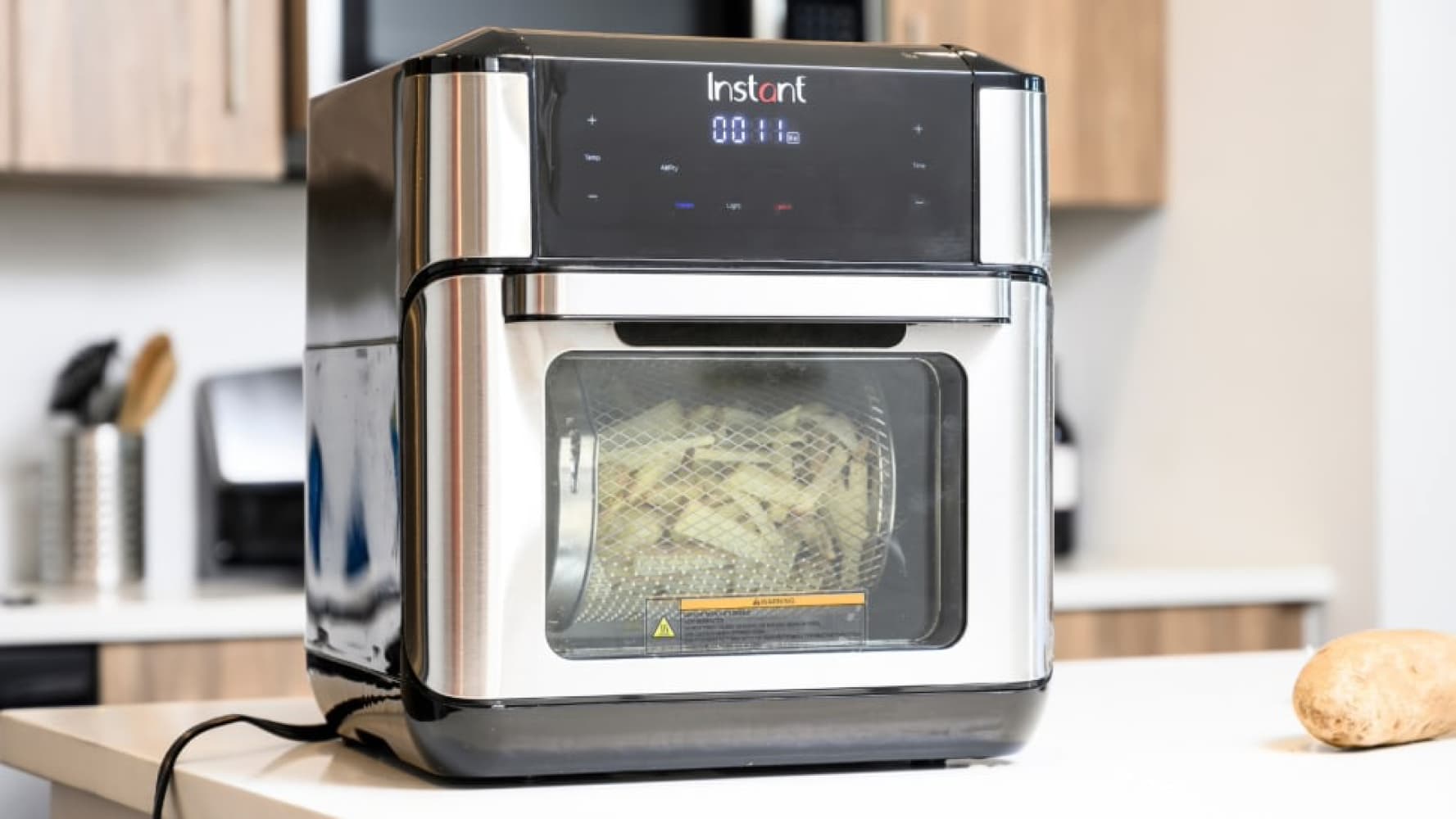 You can also adjust the level of heat while cooking for the best results. The stainless finish guarantees that it'll blend in with your appliances instead of standing out like a sore thumb.
4.   Power XL Air Fryer Pro
If you cook in bulk, perhaps for a large family, Power XL is the air fryer for you. It has more space than other air fryers and can accommodate more food without everything sticking together.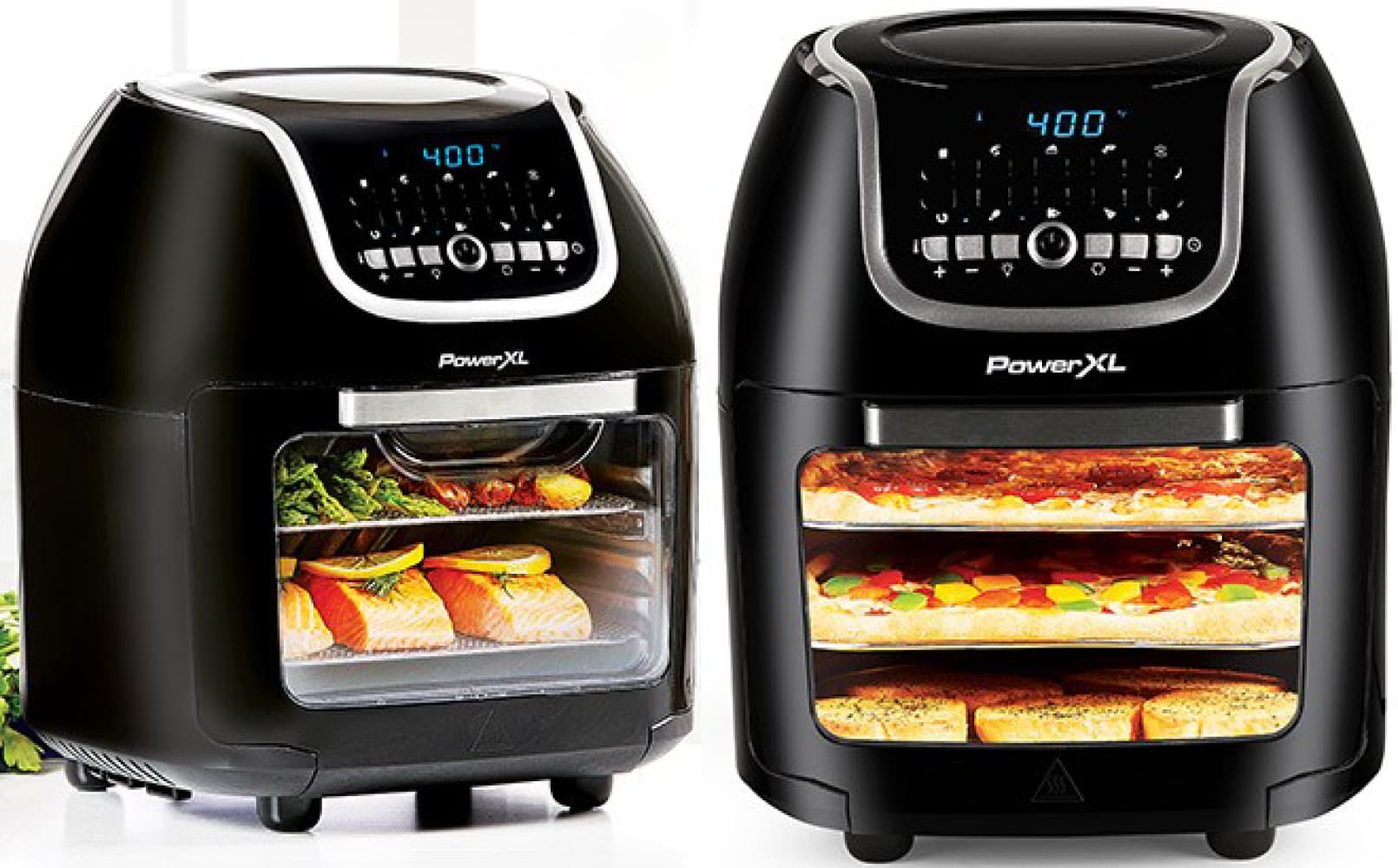 This device has a rack that can cook a 4-pound chicken in less than an hour. Dinner suddenly got easier.
There is also a drip tray beneath the basket that collects the excess oil. Aesthetically, this is a sleek looking piece that will be a great addition to any kitchen.
5. GoWISE USA Ming's Mark Electric Air Fryer
If you're looking for something simple, small, and unobtrusive, this might be the best fit for you. The GoWISE air fryer can handle 3.7 quarts and has a simplified design that doesn't draw attention. It's also on the more affordable side.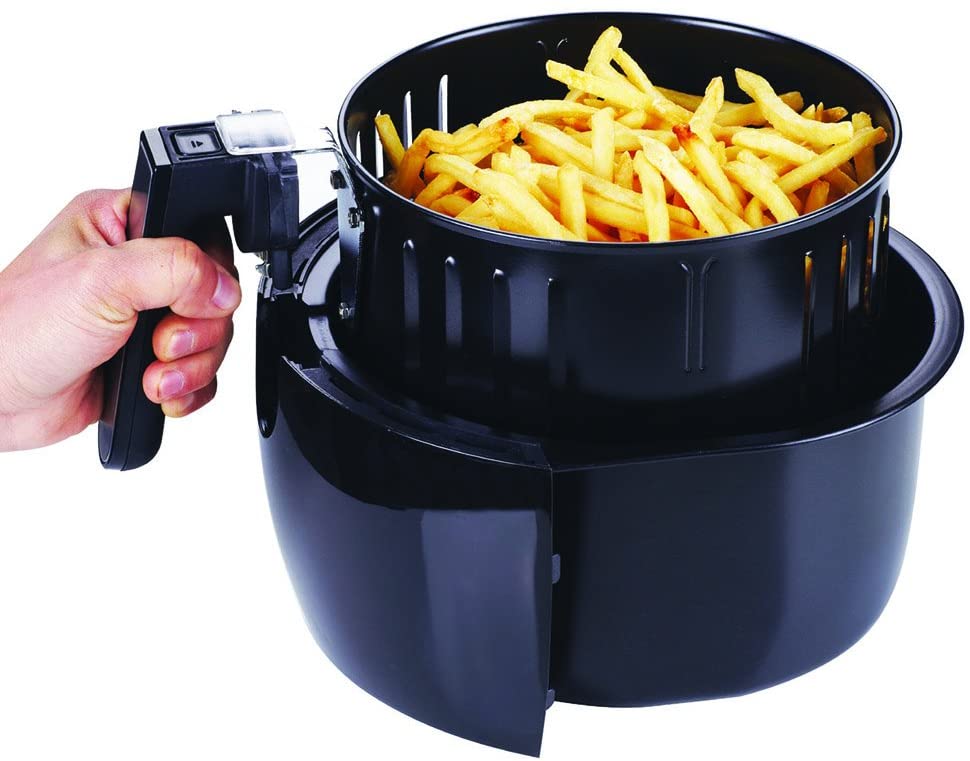 Best Food to Air Fry
If we have your attention at this point, you might be wondering what you can possibly air fry. Will you really use an air fryer enough to justify buying one? The answer is Yes.
Air frying is an alternative way of cooking for any food that is normally fried in oil. The foods that come to mind are chicken, chips, fries, and more.
These foods are usually high in calories and not suitable for good health, but when air fried, their calories decrease, which makes them healthier to eat. Frying food is also a great way to get kids interested in eating something healthy (for once).
Chicken
A guilty pleasure to many; however, they can't eat it too much due to high-calorie content. Unlike deep fried chicken, chicken fried in an air fryer comes out crispy and lacking that "soaked oil" look and taste.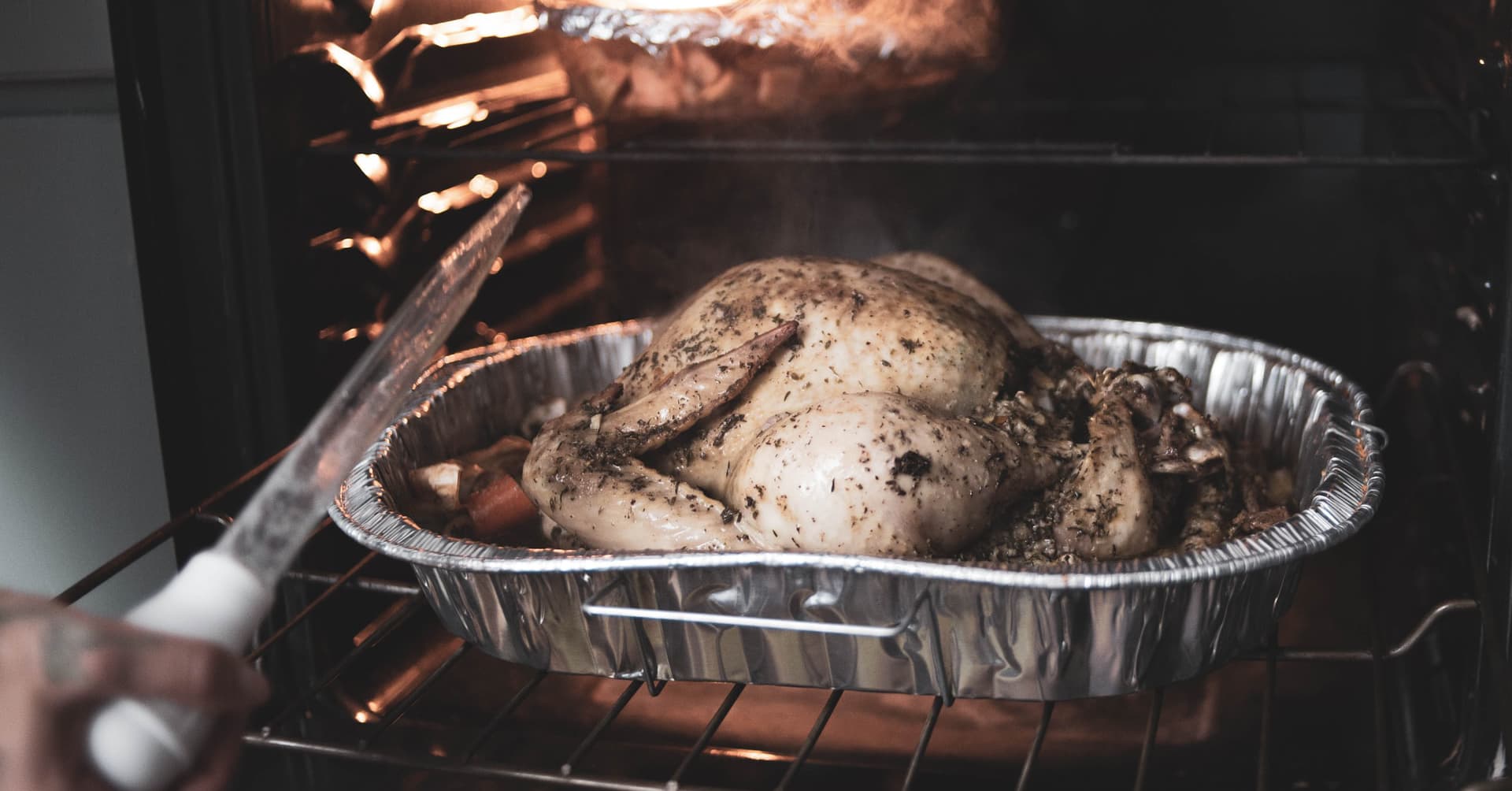 Fish
It's hard to get a good fry on fish as it isn't something most families eat regularly. Luckily, fish becomes a quick and healthy snack with an air fryer. The meat will be flaky and moist without the heaviness of oil.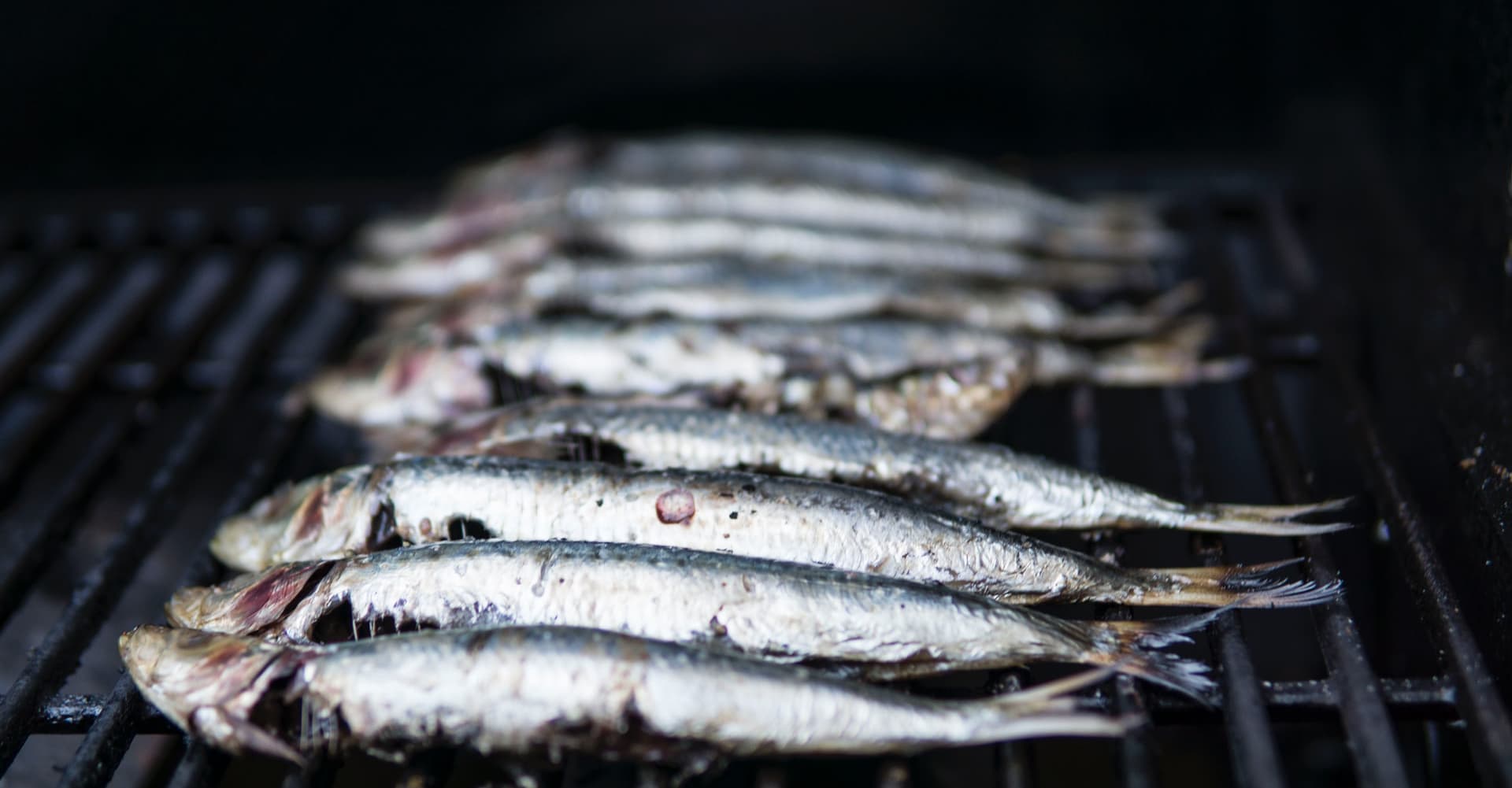 Fries and Chips
Fries and similar fried sides can really make a meal. Air fryers are great for a wide variety of fries and chips as you can eat them without the guilt.
Possible Disadvantages of Air Frying
Although air frying is definitely a better alternative than deep frying food, we do want to make the point that eating air fried food all the time is not healthy. Fried foods in general still have a higher amount of calories and can sit heavily.
Please be sure to be eating a healthy, varied diet with fruits and veggies included!
Conclusion
The use of hot air to fry foods has been revolutionary in terms of the cooking world. It has made parents sigh in relief at being able to provide a healthier and attractive version of family favorites!
These machines are reasonably priced, easy to use and understand, and a great addition to any kitchen.