Zucchini and mushrooms are both healthy, low-carb foods that can be paired together in a number of ways. Zucchini squash is a mild-tasting vegetable that's usually served alongside the main course, but it's also versatile enough to stand on its own. Mushrooms, its complementary partner, are a little more robust and can be a great choice for a meat substitute.
Zucchini and mushrooms are both adaptable ingredients that can be used in a wide range of recipes, from savory to sweet. Whether you're looking for hearty, healthy main dishes or quick, weeknight meals, these five recipes will help you cook up delicious, homemade plates. Maybe even some leftovers too!
Benefits of eating zucchini and mushrooms
Vegetables are powerful in their ability to nurture our bodies. This is especially true if you are eating fresh, living vegetables. They bring with them an array of nutritional benefits that help support your body, mind, and spirit. Zucchini and mushrooms, both of which are rich in vitamins, minerals, antioxidants and many other nutrients, are both especially wonderful for you. Let's take a quick look at just what both of these amazing vegetables can do for you.
Zucchini and mushrooms are both excellent sources of vitamin D, which is important for strong bones. They are also good sources of vitamins B2 and B3.
Zucchini and mushrooms also contain a lot of potassium. Potassium is essential for healthy body functioning. It controls heart rate and blood pressure, maintains normal blood sugar levels, and regulates muscle contraction.
Mushrooms are high in selenium, an antioxidant and mineral that is believed to protect against cancer and boost the immune system. Zucchini is a great source of vitamin C and A, as well as other nutrients like manganese, folate, and fiber.
They offer color, texture, and flavor to our diets. It is important that we not only consume a variety of vegetables, but also a variety of colors. Zucchini and mushrooms are a match made in heaven for the dinner table because of their ability to delight the senses.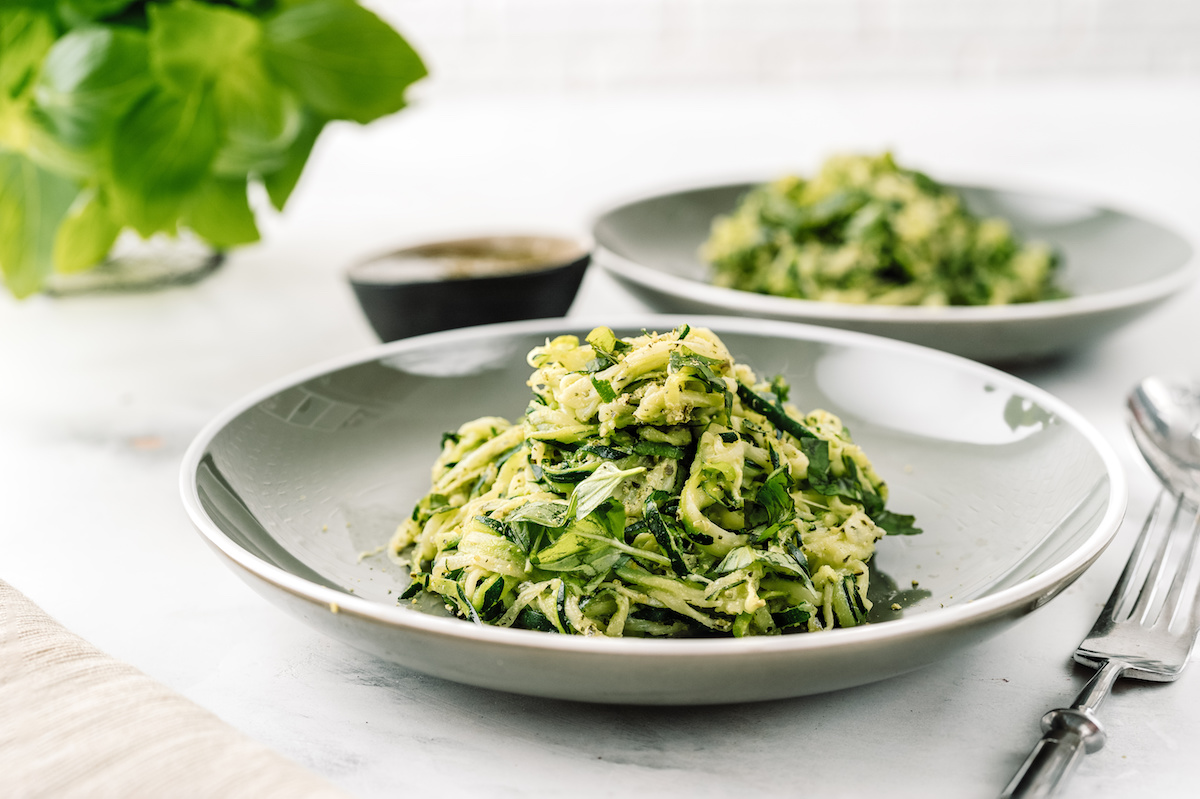 Ways to prepare them
Zucchini and mushrooms don't have to add complexity to the kitchen. You can simply grill them and toss them with a bit of olive oil and salt. You can also throw them in a skillet and sauté them. Either option comes out delicious. Another way to enjoy the two is to add them to your sandwiches. Choose a sauce, some whole grain bread, and a variety of other vegetables. It makes for a great lunch!
Mushrooms can be stuffed with a variety of things. Stuffing them with cheese and spinach is a classic combination. One can stuff mushrooms with just about anything, but the most common are tomatoes, spinach, onions, garlic, and cheese. Stuffed zucchini is delicious too. You can make them with a variety of fillings, including mushrooms! Cheese is a common addition to this as well.
These vegetables are tasty when prepared in both simple and complex manners. They are great as an appetizer or part of any meal. They can be roasted, grilled, fried, steamed, pickled, and added to many recipes. They are a great addition to your weekly menu. Picking out and developing new recipes for these vegetables is a great way to keep meals interesting.
How to grow them
Zucchini and mushrooms can be grown in a garden bed, in pots on your deck, or containers on your porch. Plant your veggies in well-drained soil. If you are growing them in a raised bed or container, it is a good idea to add some compost or other organic material to the planting soil. Mulching between the plants will help to keep weeds and soil moisture in check.
Zucchini takes approximately 3 weeks to grow. You can get several zucchinis from each plant, or a single large one. Mushrooms grow relatively quickly but need to be checked daily to harvest. The most common type of mushroom to grow is called a brown oyster mushroom. This is easily identified by its brown cap. Planting your vegetables is a rewarding way to engage with what you're putting in your body.
Now let's get into these five healthy and quick zucchini and mushroom recipes!
4 zucchini and mushroom recipes
Below are 4 zucchini and mushroom recipes for you to try.
Note: Our recipes are created by our nutritionists.
Recipes: